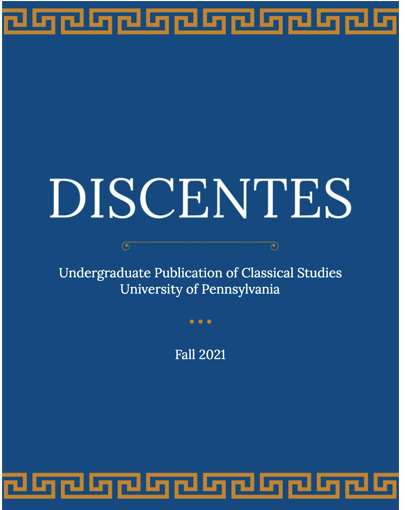 Discentes, the undergraduate publication of CLassical Studies at the University of Pennsylvania, has pbulished its Fall 2021 Digital Edition. This is their first issue since their relaunch last year.
This digital edition features a variety of creative pieces, translations, and research papers by undergraduates, graduate students, and recent alumni. In addition, they are proud to put forth several articles addressing inclusion, equity, and accessibility in the discipline of Classical Studies, including interviews with Penn Classical Studies faculty members. For these, they are especially grateful to Professor Bowes, Professor Damon, Professor Murnaghan, and Professor Wilson, who took the time to share their thoughts with the Discentes staff last summer.
They would like to thank readers, collaborators, contributors, and friends – for the support they have shown for Discentes over the past year. The Discentes staff hope that you enjoy their digital edition, a celebration of student voices in Classical Studies.