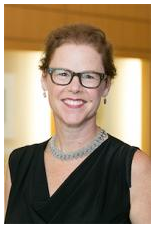 ACLS President and our inaugural speaker for the Penn Public Lecture Series, Joy Connolly (CLST PhD 1997), has been elected to American Academy of Arts and Sciences, one of the oldest and most esteemed honorary societies in the United States.

Founded in 1780, the Academy honors exceptional individuals in a variety of fields and convenes these leaders to advance new ideas and address important issues toward the public good. Members include some of the most accomplished voices in the arts and humanities, social policy, education, global affairs, and science and technology. Notable members from the Academy's history include Margaret Mead, Jonas Salk, Barbara McClintock, John F. Kennedy, Martin Luther King, Jr., Aaron Copland, Martha Graham, John Hope Franklin, Georgia O'Keeffe, I.M. Pei, and Toni Morrison.

Connolly is a scholar of ancient Roman rhetoric and political thought and their enduring influence in modernity. She joined ACLS after serving as provost and interim president of The Graduate Center of The City University of New York, the principal doctorate-granting institution of the nation's largest public urban university. Prior to joining CUNY, she was dean for the humanities in the Faculty of Arts and Science (2012-2016) and director of the College Core Curriculum at New York University (2009-12).